Irina Rouby-Apelbaum
Damn, you Live Like This? Living between Gossip and Loneliness.
Damn, you live like this? looks at the repurposing of a decommissioned hospital in North York as a site for the building of neighbourhood relationships between gossip and loneliness. Drawing from morphological, tectonic, and narrative research into the commons of 14 houses across three cities, this project invents a series of interstitial spaces of encounter in existing and new buildings. Design interventions include housing, public routes, and common spaces created via additions, removals, maintenance and bricolage. Thresholds and fluid boundaries negotiate connections among agents and neighbours that are based on frankness and which facilitate mutual aid.
14 Houses

This thesis began by thinking of the different ways one might relate to their neighbourhoods.
I thought of Maruja in La Blanqueada (Montevideo, Uruguay) who was the life of the street but who knew a little too much about everybody. There is also Grandma Stamatouli in Nikaia (Athens, Greece) and the solidarity she forged across overlooking balconies. I also thought of my neighbours in Westminster-Branson (Toronto, Canada) from whom I know almost nothing but who occasionally offer to mow our lawn.
This study wanted to take a stance against loneliness, as experienced in the domestic environment and residential urban space of Toronto, and specifically investigate what architecture can do about it.
14 Homes in 3 cities - Montevideo, Athens, and Toronto - were catalogued in an attempt to learn from daily rituals, domestic upkeep, neighbourhood interactions, and the role of gossip in relation to the idea of home.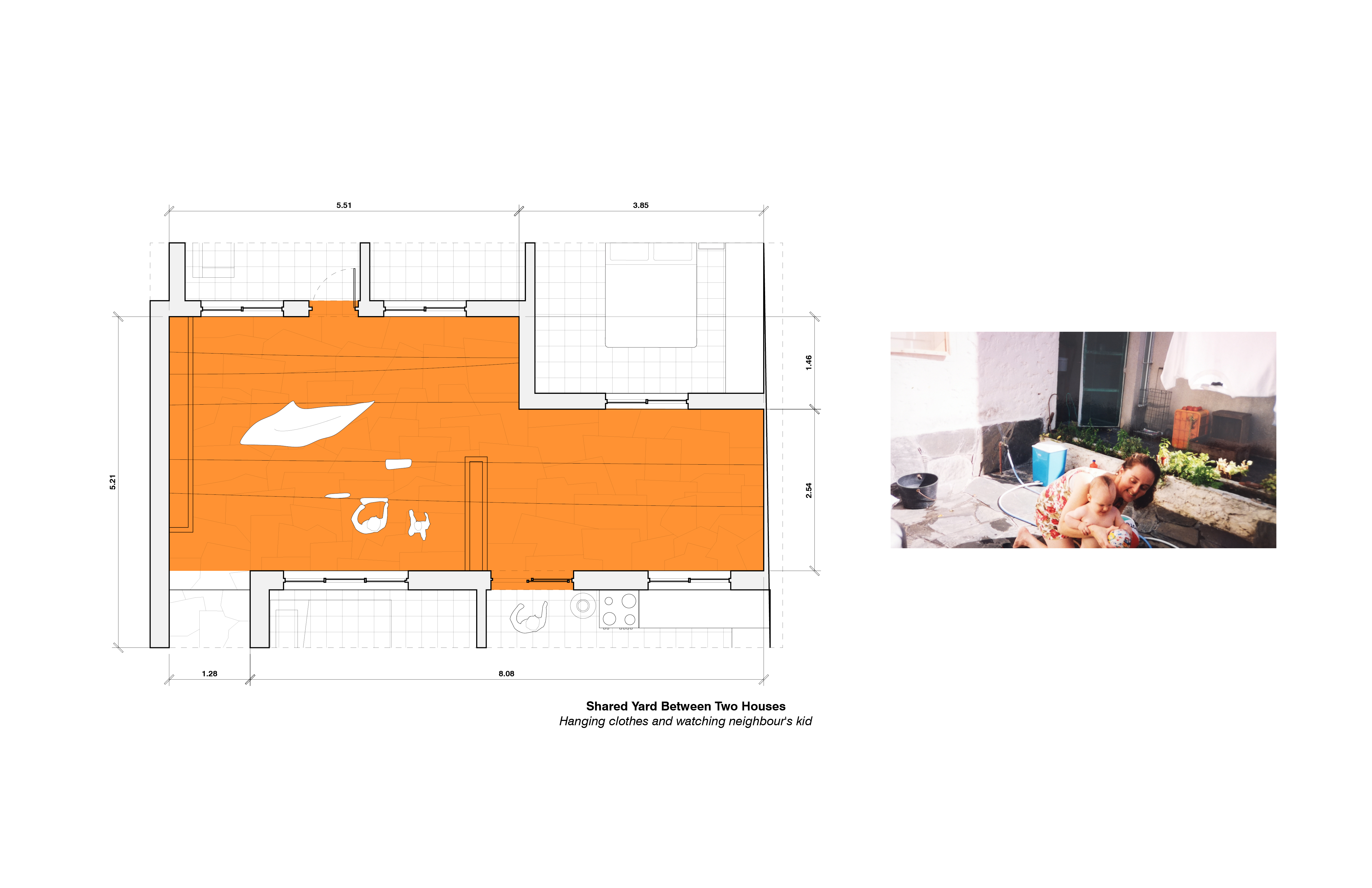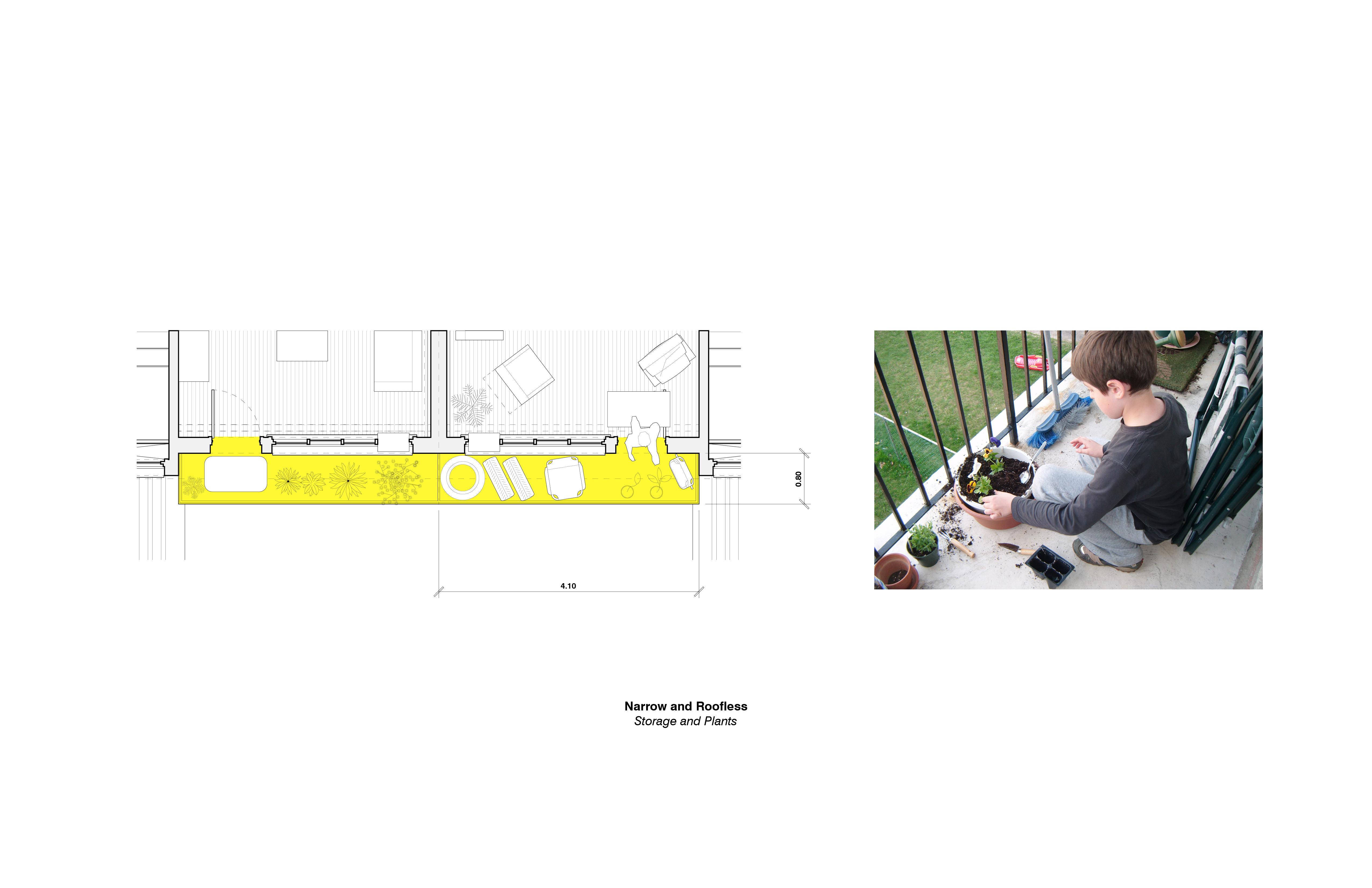 Themes that describe what it is like to live together emerged from these studies: shared courtyards which allow for mutual aid between neighbours, chamfered street corners that become spaces of gossip and exchange, incomplete spaces that function as areas of domestic work and leisure...
Encounters, mutual aid, and frankness - the things that fuel neighbourhood connections - happen at these threshold, layered and leftover spaces between domestic and urban scales.
Landing in Toronto

This project approaches new architecture and the reconfiguration of a decommissioned hospital site in Westminster-Branson, Toronto, via removals, renovations, and additions that focus on the spaces between the urban and the domestic scale. It is an attempt to insert new commons into a neighbourhood where it's hard to know your neighbours.
Branson Hospital and its broader site have an uncertain future. On the one hand, Advent Health Care Corporation (the owner) envisions demolishing a large part of the hospital to build a seniors' campus on the site; on the other hand the province has renewed their lease to repair part of the building and transform it into a reactivation centre for patients not needing hospital care but not yet able to go home; and lastly, the pandemic has meant the site has been turned into a COVID-19 testing facility for the past year.
The approach to the site includes a series of surgical operations - creative demolition, repair, opening access, and new construction as ways to renew this ruin of modernism and insert new housing into the site.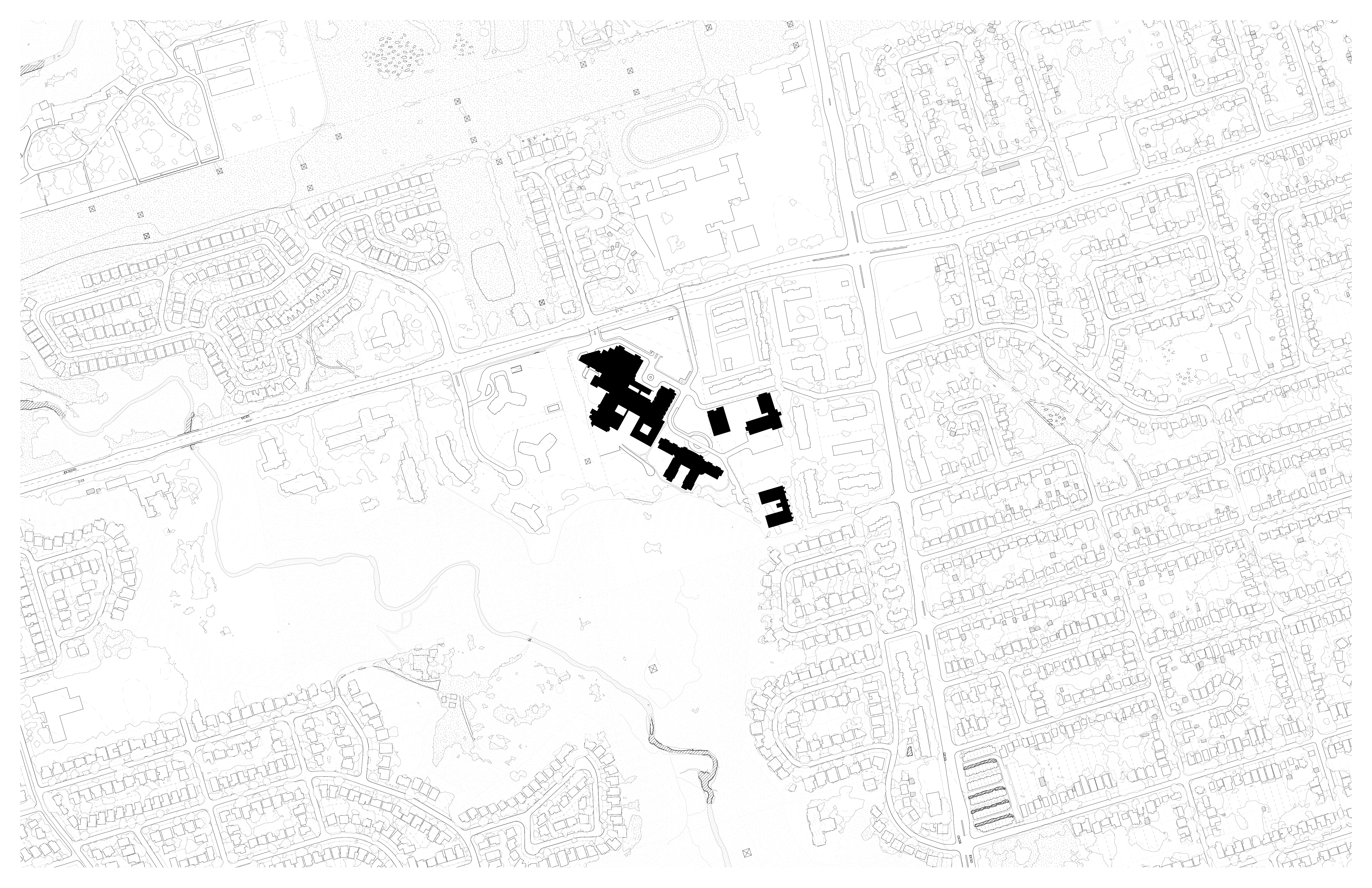 As a way to work with what's there and begin to develop systems of incremental and affordable housing, various agents that operate in the neighbourhood were identified: Advent Health Care Corporation, the Provincial Government, York University students, 2 Mascot Place Housing Cooperative, neighbourhood renters and the Forest Valley Outdoor Education Centre.
Each agent can provide different things - access to land for housing; funding and infrastructure; upkeep; access and stewardship of the ravine, etc. The different combinations of these contributions and needs leads to potentially different interventions, locations on the site, and financial arrangements. The idea of partnerships, quid-pro-quo, and incrementality are used as a way to collect different resources by the agents that exist in the area in an aim to build housing via methods of exchange that can help establish affordability.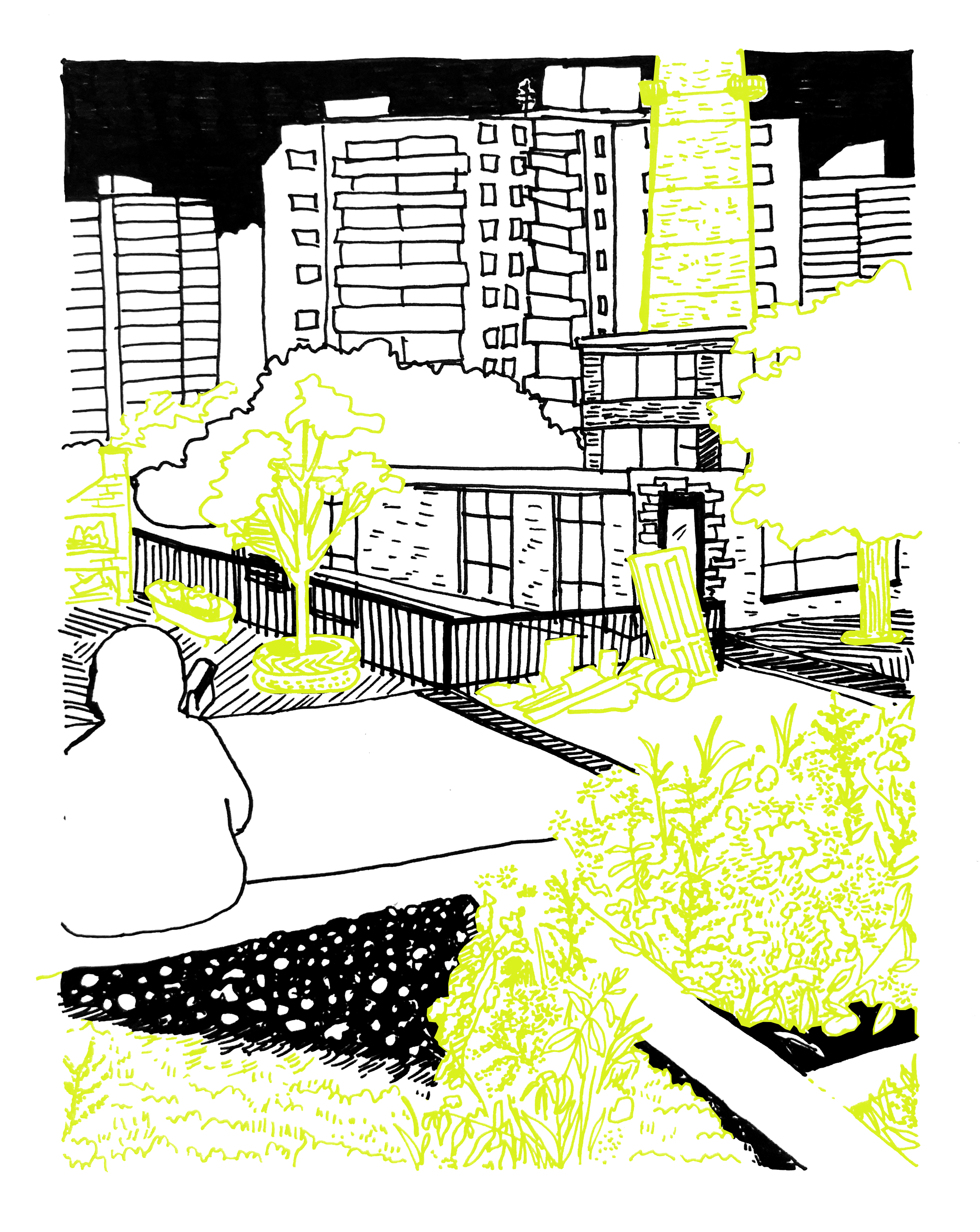 Remove obsolete structures and compartmentalize the too-large hospital building
Renew parts of the existing infrastructure to provide a more holistic and domestic approach to healing in the reactivation centre
Add new housing and collective programs throughout the site
The proposed intervention is one piece in this series of surgical interventions. As a way to address the need for affordable housing as well as taking advantage of the upcoming renovations for the reactivation centre, this specific addition intersects with the existing building and combines the funding and needs from the rehab construction (Provincial government), York University (student housing), and neighbourhood renters in a quid-pro-quo setup. The intervention proposed includes a 6-storey apartment building that connects to an existing wing of the hospital, faces the ravine and hydro corridor, and whose ground floor programs cater to different agents on site and in the neighbourhood.
The research into 14 Houses led to the notion of home as a series of thresholds. These are spaces which mediate between the collective and personal, private and public, indoor and outdoor, work and leisure - thresholds between spaces for gossip and spaces for loneliness.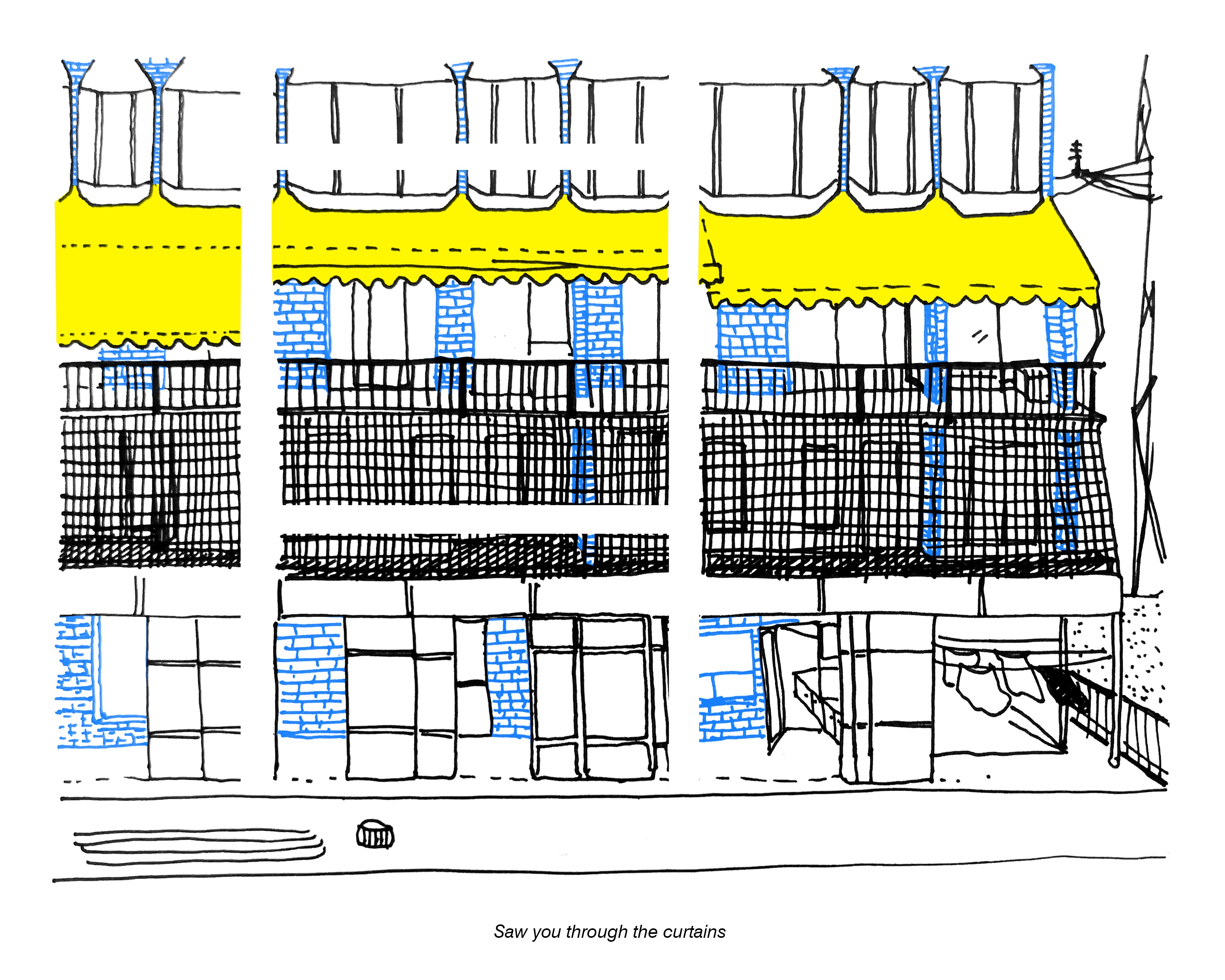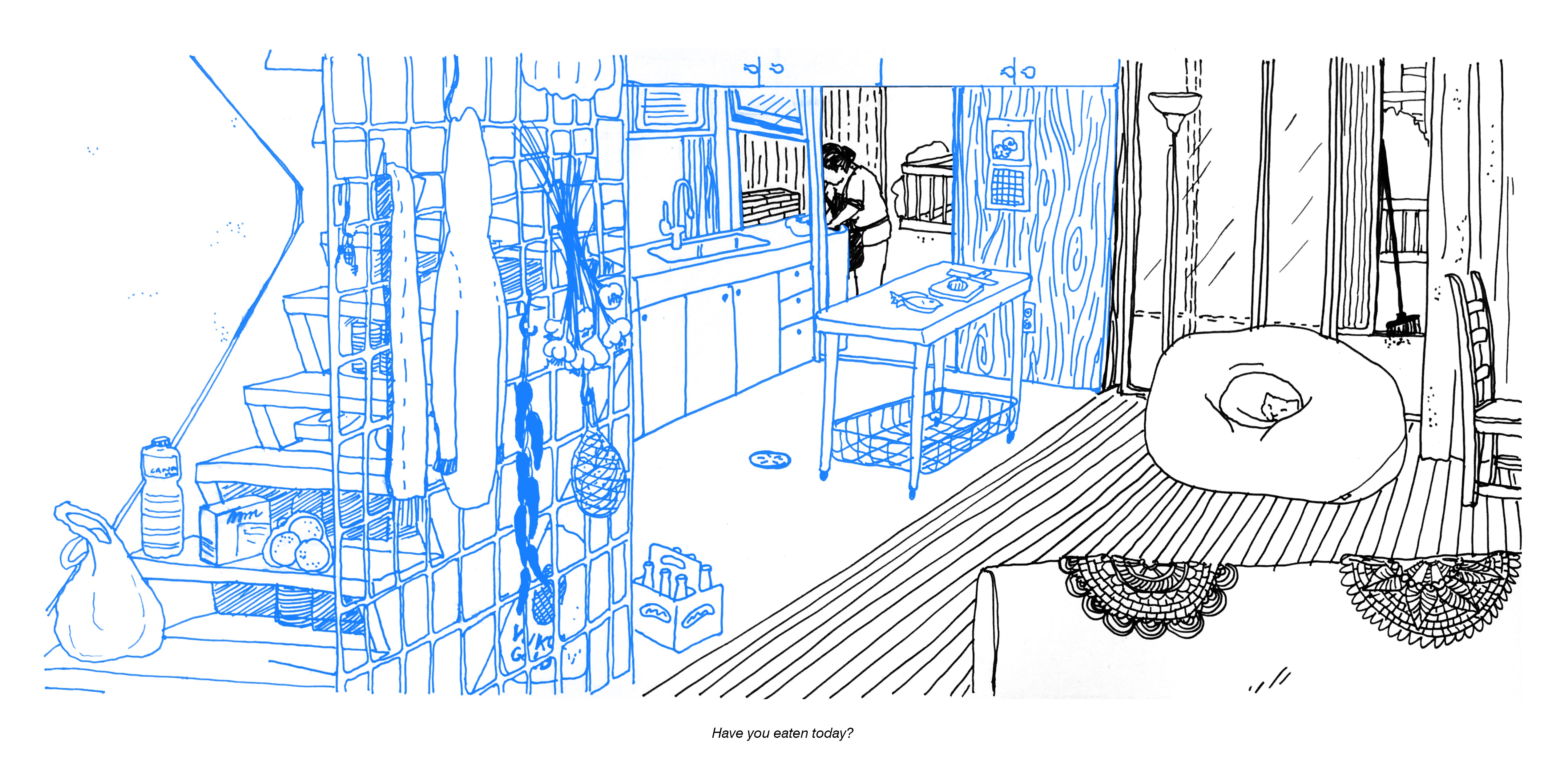 Broad corridors, cores that service units as well as the public, and a series of semi-outdoor spaces shape the plan of the apartment building.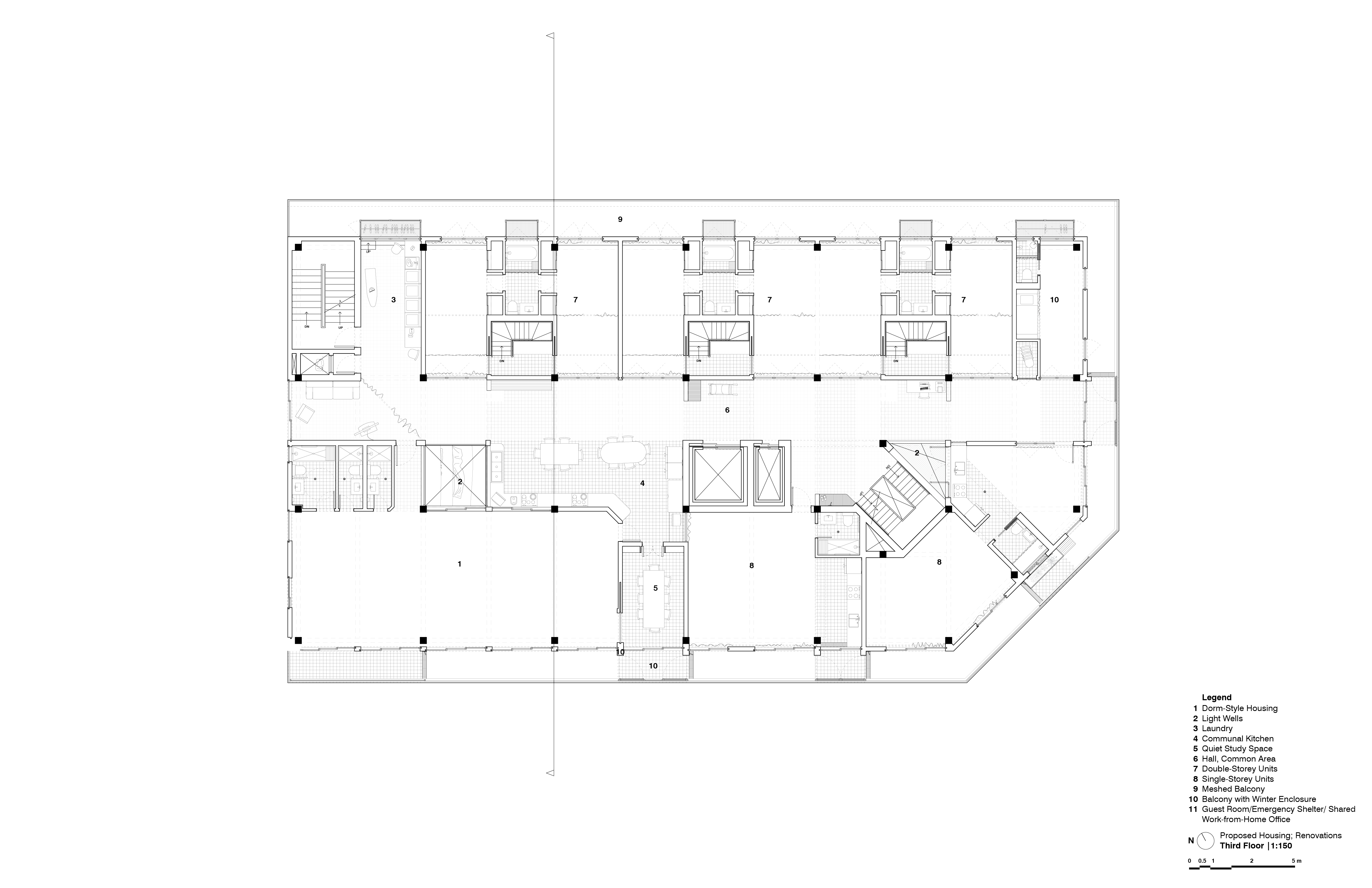 Using CLT as its structure, the housing units feature both tight cores and wide open spaces that can be repurposed and changed by the residents over time, with the possibility to house large families, home businesses, or be split into smaller independent living units. A large central corridor on every floor features shared amenities like a communal kitchen, freezers and fridges, laundry, large sinks for household chores, and space for domestic activities like birthday parties, movie watching and homework help to be done collectively. Balconies, winter gardens, bay windows, awnings and terraces define the facade and become spaces for living to spill outdoors throughout the seasons.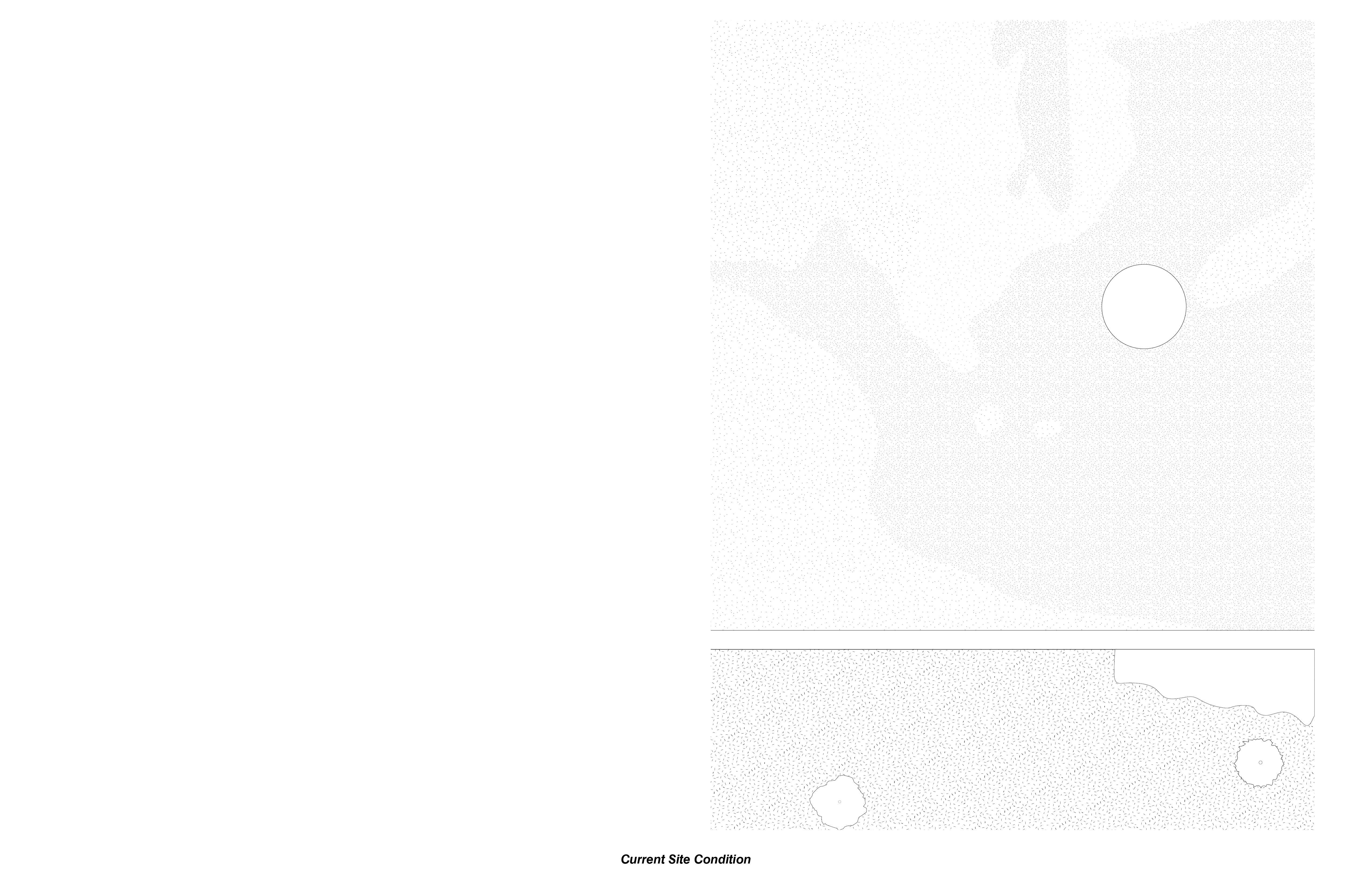 The central corridor and shared outdoor spaces become the main spaces to cohabit with - or hide from - neighbours.
Studies of past experiences from different neighbourhoods revealed that the existence of gossip is a form of neighbourhood identity and collaboration. Urban loneliness comes from an inability to know about the people around us, offer and receive help, and see life unfolding.
This thesis' approach to building wants to give a certain amount of the interiors, facades, and domestic life over to the commons - where we can see life happening. Going against the politeness and formality that comes with the idea of home as a signal of status, this apartment building aims to use thresholds and fluid boundaries to collectivize domestic work, facilitate mutual aid, and negotiate connections between neighbours.
---
© Archipelago Studio 2021 @ the John H. Daniels Faculty of Architecture, Landscape, and Design, University of Toronto.